Documents. Accounting documents from the Control Panel.
In this section you can review the list of current accounting documents (invoices, protocols).
For the documents to be sent to your accounting e-mail, please check the box next to "Send digital copies of documents to accounting e-mail address monthly".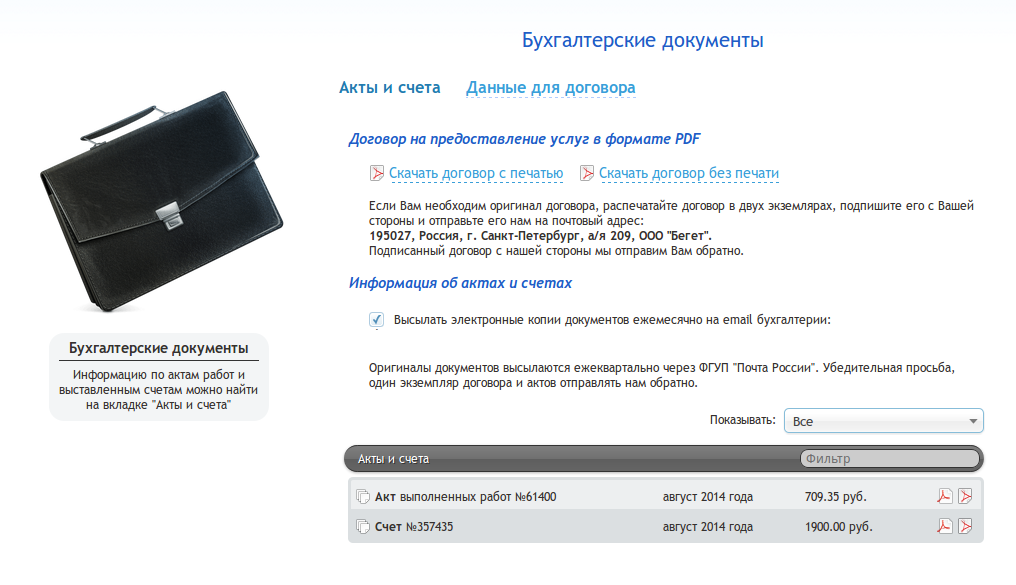 Оригиналы документов высылаются ежеквартально через ФГУП ""Почта России"".

Убедительная просьба, один экземпляр договора и актов отправлять нам обратно на почтовый адрес:
195027, РФ, Санкт-Петербург, а/я 209, ООО ""Бегет""

Please make sure your postal address is indicated correctly. You can edit the postal address and the accounting e-mail in the section "Personal information".

For your convenience below you will find documents that can always be downloaded and printed.
Необходимо также учитывать, что акты выставляются на сумму оказанных услуг в месяце. Кроме того, наша система актов закрывает совокупностью актов каждый оплаченный счет. Таким образом в одном месяце может быть выставлено более одного акта выполненных работ.